Loft conversions for houses which have a gable roof are a sensible option where there is a need for additional useable space. All Loft Conversions offer a complete loft conversion service which will more than meet your aspirations and unlock the full potential of your house.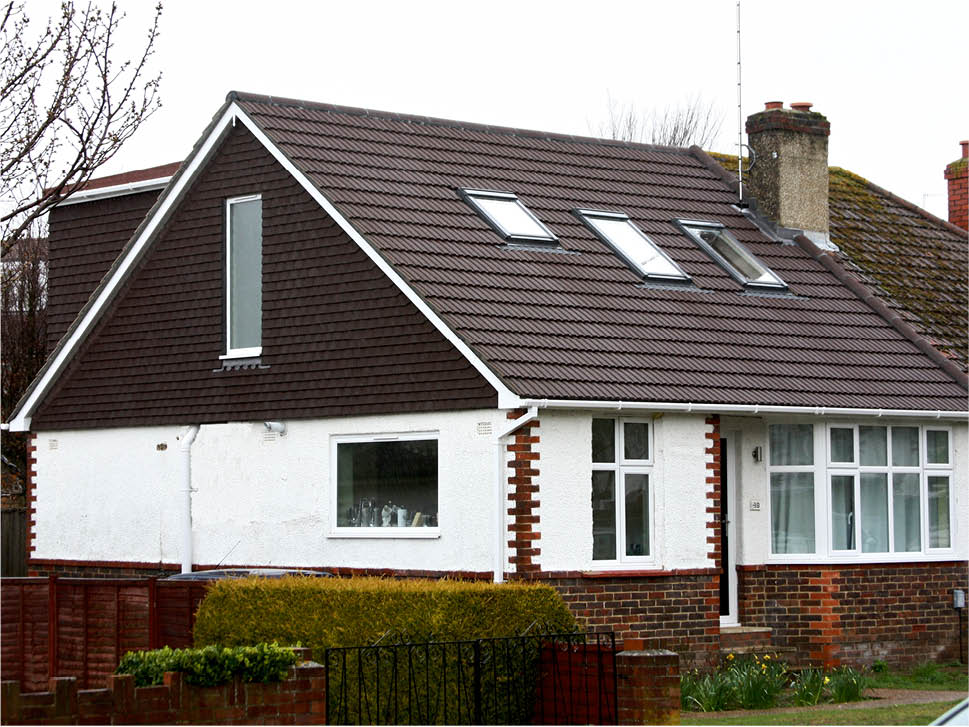 What is a Hip and a Gable?
A gable is the, usually triangular, part of a vertical wall, formed by the two sloping sides of a pitched roof meeting at the ridge. A gable can often be seen at the end of a house when the wall is then called a gable end wall.
A hip roof is a name given to roofs which slope inwards from the top of the house walls and then meet at the ridge. In the case of a hipped roof, the roof at the end of the house, which would have been a vertical triangle shape in a gabled roof, slopes back towards the ridge.
What is a hip to gable loft conversion?
A hip to gable loft conversion is essentially the replacement of the hipped end roof by a gable end, allowing for extra useable space and extra head height in the loft. This makes it ideal for a loft conversion to provide extra living space.
Hip to gable conversion
This type of loft conversion is potentially suitable for any hipped roof house. Hipped roofs can often be seen on bungalows and sometimes on detached houses and semis. They are rarely seen on terraced houses except perhaps on the houses at the end of the terrace.
A loft conversion involves a considerable amount of work and expertise. That is why it is advisable that the work is carried out by a professional, reliable company, such as All Loft Conversions, who are experienced in this type of work.
When considering a loft conversion there are a number of major factors to be aware of including the safety of the building and compliance with legal requirements.
With regard to safety; one of the first things that needs to be done is to ensure that the existing foundations, beams and lintels are strong enough to cope with the additional weight that a loft conversion will add to the building. As part of these safety and building requirements checks, during the building process, the Local Authority Building Control Officer will make an inspection of these elements.
As regards the legal requirements; if your house is semi-detached or terraced you need to notify your neighbours of your proposals to comply with the 1996 Party Wall Act. You do not normally require planning permission as a loft conversion is considered to be permitted development, however, there are limits on the increase in the cubic capacity you are allowed, and other regulations which you need to meet in order to comply with requirements on height, materials, windows, designations etc.
All Loft Conversions can guide you through all these obligations and the processes you need to go through from beginning to end. This includes getting plans drawn by an architect, making sure that the planning permission and building regulations are complied with, and providing the correct materials.
Typical hip to gable rear dormer floor plan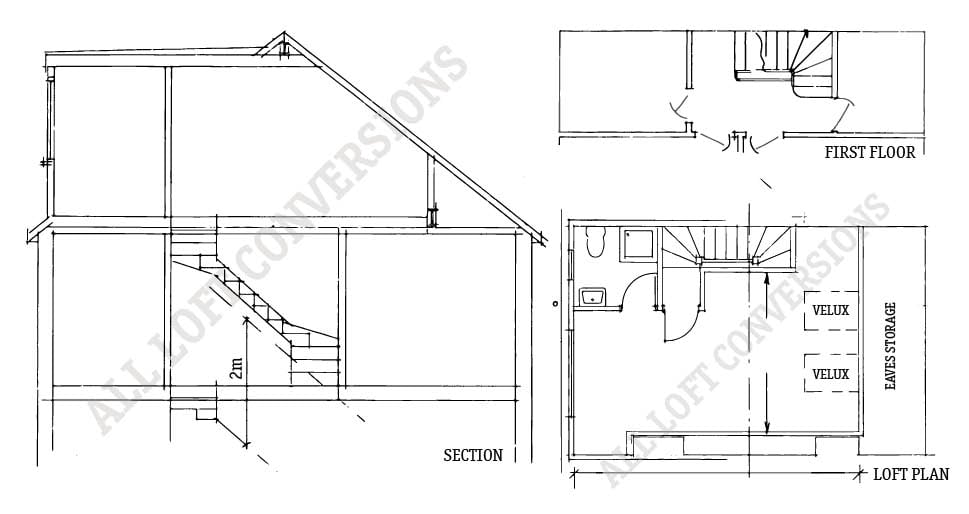 Hip to gable dormer
In many instances, the addition of a dormer to a loft conversion is preferred by clients because it can greatly add to the amount of useable space in the loft. A dormer is a glazed projection emanating from the main roof and has its own roof which might be flat, gabled, hipped, shed or eyebrow. Dormers may take the form of windows in the loft space but can extend the whole length of the roof. The addition of a dormer can be a good option for a loft conversion because it provides extra useable space and vertical height right to the edge of the loft.
Hip to gable loft conversion cost
Obviously, a frequently asked question is how much a hip to gable loft conversion costs. You will want to have a ballpark figure at the outset before you go to the trouble of contacting a company for a quote. In order to help you with this, we have set out a guide in the 'prices' section of our website showing examples of different types of conversions.
Of course, each job is different and is individually priced, but, in order to give you an idea of costs; the conversion of a hipped roof to a gable, with stairs to the new loft room and roof lights, costs about £30,000 +VAT. At the other end of the scale, a hipped roof converted to a gable, with a rear dormer, providing one or two additional bedrooms, is in the region of about £45,000 +VAT.
We would be pleased to answer any questions you may have about hip to gable loft conversions or to discuss your project with you, without any obligation.