A Velux loft conversion is one of the cheapest ways of gaining an extra room with lots of natural light. You can turn a neglected attic into useable space as a bedroom, study, playroom etc. and add about 20% to the value of your home.
Why a Velux loft conversion?
A Velux Loft Conversion is cheaper than many other loft conversions because it doesn't involve the cost of changing the height or pitch of the roof. However, it still allows you to have an extra room with lots of light because the windows are set straight into the existing roof.
About Velux windows
We use Velux windows in our loft conversions because it is a quality brand that has stood the test of time, having been on the market for about 77 years. The design was patented in 1942 by a Danish engineer who wanted a roof window which let in as much light as a vertical window. In fact they let in twice as much daylight as vertical windows of the same size.
Probably everyone can recognise a Velux window. Technically they are roof windows which are installed on the same pitch as the roof. They are not roof lights or skylights (which are installed on a different plane and orientation to the existing roof, although Velux manufactures these too). Velux windows are most commonly seen centre pivoted, but this is only one option.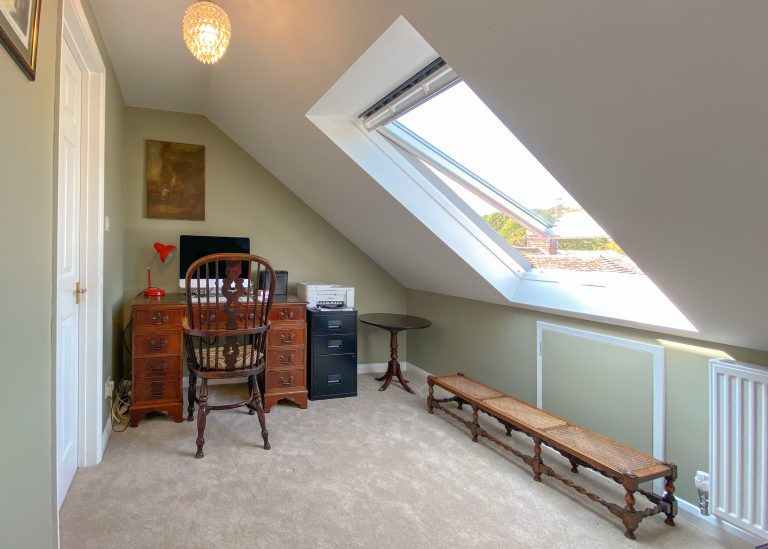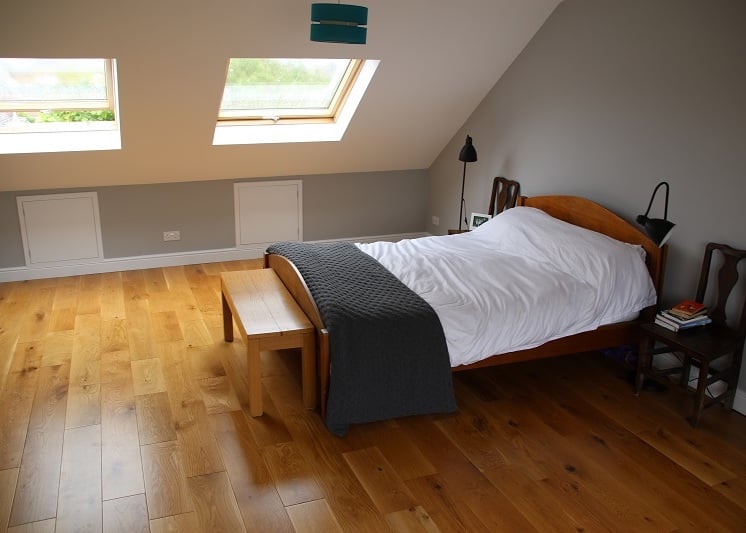 How we make the most of Velux windows
When you engage us to build your loft conversion we first ask you for your thoughts about the project so that we know what your ideas are. We can then offer advice and make sure that what you want is achievable. We always keep you involved in the whole process as it progresses, including your choice of windows. We can provide whatever Velux window option you want – and there are lots of them!
When it comes to the windows we discuss all the options with you so that you can decide on exactly the type of window that suits you best. To give you an idea as to what is available; there is the ever-popular centre hung window, or, if you prefer, there is a top hung version as well. For extra space and the 'wow' factor Velux also produce windows that open out as a roof terrace and others that provide you with a balcony. As well as these options there is also the choice of glazing so that if, for example, you want to reduce extraneous noise, have extra safety protection, enhanced energy efficiency or opaque panes, which allow privacy without reduction of natural light, you can. If you don't want to operate the windows manually there are electrically operated and solar-powered windows; there are even ones with rain sensors which close automatically when it is raining.
The Velux brand is an already tried and tested household name, but they have now introduced a number of new features. The new generation of Velux windows has improved insulation with u value down to 1.2 W/m2K on standard windows and with a larger pane area for all sizes of window. This lets in 18% more light, more passive solar heat and helps with energy efficiency.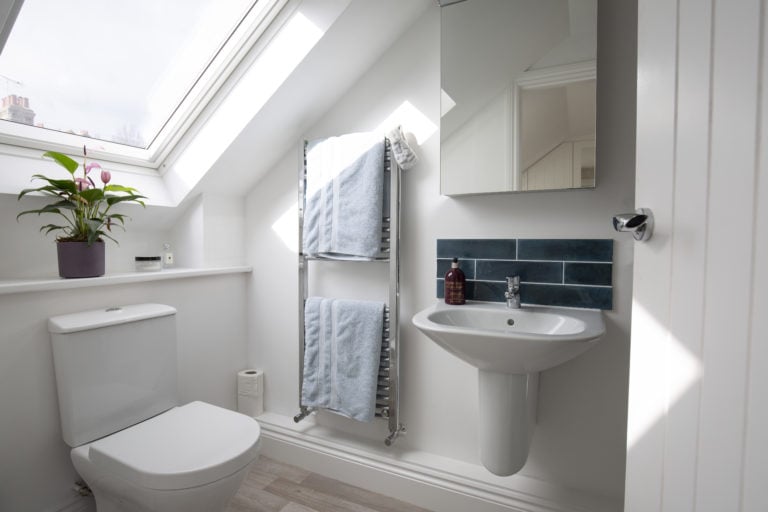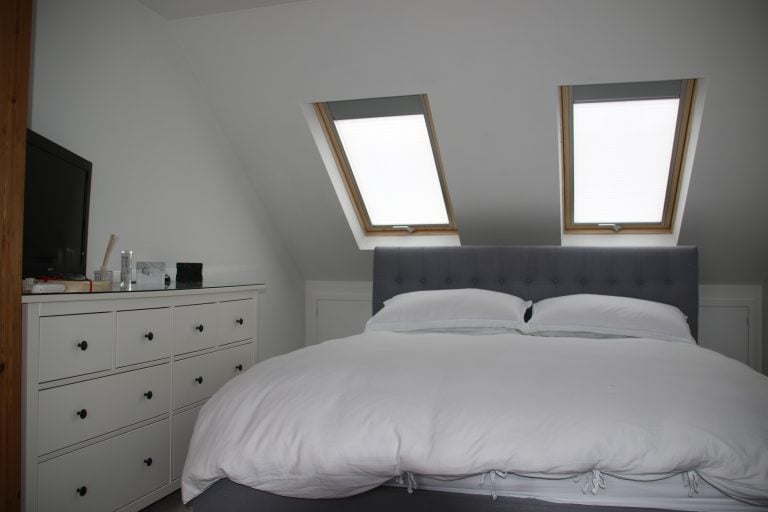 Our personal service
We provide a service dedicated to the individual customer, and you can be sure that while we are working on your project you are the most important customer we have ever had. We won't start your job and then leave for another – we make sure that we take each job through to the end.
The first thing to do is to make sure that your loft is suitable for conversion. You can do this yourself by checking the height from the floor to the apex of the roof which should be a minimum of 2.2m, but if it isn't we can talk about the options which might involve changes to the insulation thickness, the roof or floor height. We also need to discuss the placement of the staircase and the head height on the stairs which needs to be about 1.9m when standing in the middle of a stair tread. There will be other decisions depending on the position of your cold water tank and roof trusses, and we can arrange for an architect to draw up plans, ready to submit for a planning application should it be necessary. Planning permission is not always needed for a loft conversion as it is usually considered permitted development, but there are certain constraints which may apply particularly if you live in a Conservation
Area or if your house is Listed. Additionally, if your house is semi-detached you will need a party wall agreement. Any balcony or roof terrace might need planning permission, particularly if it extends beyond the plane of the existing roof slope on the principal elevation fronting the road.
After any necessary planning approval we can begin the build. Our friendly and professional craftsmen are a tight team which has worked together for many years, so know exactly what to do. Our approved scaffolders construct their framework and we will gain access via the roof until the stairs are built, in order to reduce inconvenience to your household. Once the essential structural work has been done on the floor and roof, the new elements can be inserted, including the roof windows. The stairs are then fitted and the internal finishes are completed together with any final fittings for plumbing and electricity. When we have finished the job we won't leave you with any mess and we make sure we leave your completed loft conversion clean and tidy.
Velux loft conversion cost
We will provide a rough estimate at the first meeting when we have an idea of what you want. We will then refine this to give a full written estimate including all the costings before any plans are drawn. In order to give you an idea of the price, you would typically pay about £24,500 plus VAT for a Velux Loft Conversion including stairs.
Please contact us if you would like to know more or discuss the possibility of a Velux Loft Conversion for your home.