Victorian terraced houses were built to last, that is why there are so many still standing today, and they are loved as homes because of their solid feel, their often spacious rooms, and the attraction of period features.
The bulk of suburban houses built in the Victorian period were terraced. The industrial revolution which began in the 18th century saw a mass migration of people from the country to the towns and this drove the need for increased housing. Therefore terraced houses were built in large numbers to house the large workforce needed for industrialisation and to accommodate a population which had doubled during Queen Victoria's reign.
Part of the reason for the solidity of Victorian houses is because of the pride the builders took in their workmanship. In addition the Victorian builders had the advantage of being able to use materials which were not available before. Prior to the introduction of the railways in the early 19th century any building enterprise had to use materials which were available close by. With the coming of the railways, however, Victorian builders were able to take advantage of the products of the large factories such as those devoted to brick production. In addition, in the late 19th century new laws came into effect such as the Public Health Act of 1875 and the Building Act of 1878 which ensured structural stability of houses and that they were constructed to a regulated standard.
Victorian terrace house suitability for loft conversion
Victorian terrace houses were often small, two-up-two-down, but they have the advantage of well proportioned rooms and spacious attics, which makes them attractive to today's buyers, and now lend themselves increasingly to the creation of an extra room in the loft.
It is not a new idea to build into the loft. Some Georgian, and some of the larger Victorian terraced houses already made use of the attic space by employing a mansard roof which created more headroom for loft accommodation, usually for the servants.
Typical Victorian terrace house rear dormer floor plan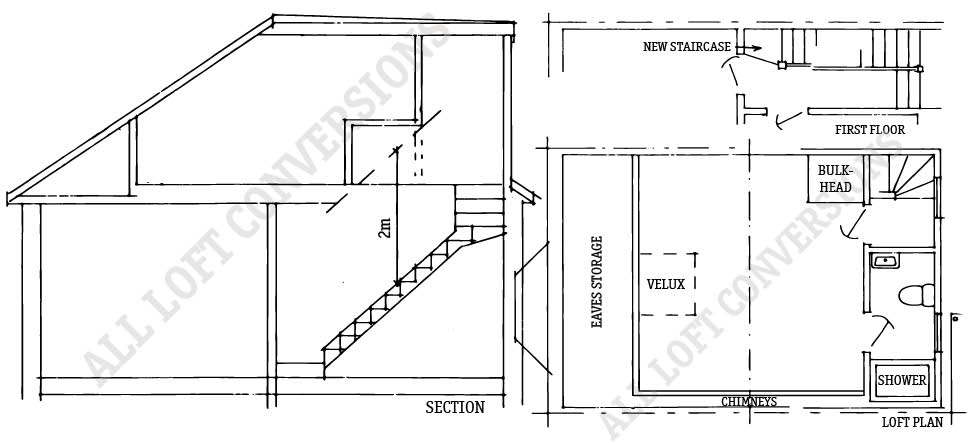 Advantages of a loft conversion
Today, as families grow, there is always the need for extra living space. This often means the upheaval of moving house to a different location if a young family needs more room. There are other drawbacks too; it can include changing the children's school and a longer commute to work. If you also factor in the cost of moving, including stamp duty, legal costs and a furniture removal company, it is not surprising that staying in your existing home can be a very attractive option. If you live in a neighbourhood that you already love, which has everything you want, and have a house with potential extra unused space in the loft, it can make sense to stay put and extend upwards.
The loft conversion of a Victorian semi is also a sure way to add value to the house as well. OnTheMarket quotes a recent Nationwide survey which found that adding an extra bedroom and en-suite bathroom to your house, by means of a loft conversion, could add an average 21% to the value of your house.
A few preliminary thoughts
If you think that a loft conversion might be a good idea for you, there are a few things you might like to consider beforehand. You don't have to worry too much because All Loft Conversions is very happy to offer an initial consultation at which we could help you decide if your loft would lend itself to conversion. However it is as well to be aware of the type of things involved.
We can do most things to create a loft conversion for you, but it helps if you already have a useable space in the loft. Possibly think about dormers, since they can increase the amount of useable space, but we can discuss all that with you including the type of roof. Head room is important, and you can determine if you already have enough head room by measuring from the floor to the apex of the roof. The early Victorian roofs were based on Georgian traditions, but by the mid Victorian period roofs were built in the modern fashion, with a central ridge running parallel to the front wall and large timber purlins to help support the roof joists. Depending on the type of roof structure you have, you need at least a minimum height of 2.2m for a traditional (cut rafter and purlin) roof. If the original roof has been replaced you need a minimum height of 2.4m for a modern (trussed) roof. Don't despair if you do not have the full height, let us look at the problem, we are rarely defeated.
You might like to think about where the stairs will go. You could follow the line of the existing stairs and dog-leg on the first floor landing if you have enough room. Alternatively you could use the stairwell to build over the existing stairs. There are a number of possibilities, and we could discuss the options with you and arrange for an architect to draw up the necessary plans for stairs and loft.
There will be other things to think about such as building regulations and party walls, possibly planning permission and permitted development rights, and making sure you don't have to comply with conservation area or even listed building constraints. We can talk to you about all of these considerations and help you find the way through them.